Linda Finney Diversity Scholarship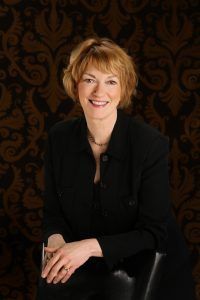 Founded by Leadership Spokane's Diversity Day Scan Team from the Class of 2013, the scholarship is named in honor of Leadership Spokane's Executive Director Emeritus, Linda Finney. The Class of 2013 wished to recognize Finney for her commitment to diversity and outreach.
 "I was taken completely by surprise," stated Finney.  "It is a huge honor. It feels like a validation of so much I have worked for and care about. 'Thank  you' doesn't begin to express my gratitude." The Scan Team created the scholarship to make a positive change that would extend beyond their class experience.  The scholarship will strengthen Leadership Spokane and the Spokane community by further encouraging diverse participation in the Leadership Spokane program.
The Class of 2013 raised over $2500 to fund two partial scholarships this first year.  At Commencement on the 13th of June, Shelly Wynecoop, Director and Chief Executive Officer at Spokane Tribal College was the first recipient. The scholarship is intended to be need based and provide funding for individuals who are not already sponsored or otherwise could not afford tuition on their own.  The scholarship will be permanently funded by the Leadership Spokane community and administered by the organization.
The Diversity Day Scan Team: Chris Bernardi (Itron), John Dickson (Spokane County), Speed Fitzhugh (Avista), Zane Huffman (FLSmidth), Chris Romey (Spokane Emergency Physicians), Korry Sheffler (Itron), Connie Stark (StarkTours), Tracy Swank (Northeast Community Center)
Past Recipients
2019 - Marianne Sfeir

Personnel Director, Family Promise of Spokane

2018 - Cassondra Martinez

Spokane Public Schools Teacher

2017 - Christina Kamkosi

Program Assistant for Operations, Empire Health Foundation

What a joy and honor to be the recipient of the 2017 Linda Finney Diversity Scholarship. After being inspired and encouraged by a few community leaders, I decided to apply to the program. This honor from Leadership Spokane and also additional funds from my employer, Empire Health Foundation to support my learning journey is definitely one of my highlights for this year. As an immigrant woman, I am looking forward to getting exposed to different functions of my community which will also strengthen my belief about building community and what it means to be a servant leader. I believe that Leadership Spokane will be a place where I will continue to grow and become a stronger member of my new home, Spokane. I am excited about serving with my cohort, having exposure to diverse perspectives and learning the stories of my fellow sojourners as we contribute to sustainable impact in our region.

2016 - Nicole Rosenkrantz

Diversion Supervisor/Racial & Ethnic Disparity Grant Coordinator, Spokane County Juvenile Court

I am extremely honored to be the third recipient of the Linda Finney Diversity Scholarship. I have been very interested in joining Leadership Spokane for the last several years however my place of employment does not provide financial assistance. This year with the support of my family I decided that I would apply and pay my way through the program on my own if necessary. If I had not received this scholarship I would not have been able to participate this year.

I have worked with diverse and marginalized communities for the last 17 years. A re-occurring theme that I have seen when working with youth and families in-need is that if they feel supported and encouraged; are taught that they are in fact worth advocating for; and are assisted with resources they have a high likelihood of implementing positive changes and moving forward from their current circumstances. Spokane already has many programs and resources that address these challenges however we as a community need to support each other's businesses and organizations in unity and inclusiveness. Social equity for people of all races and ethnicities is something we as a community should strive for. Our youth and families could benefit greatly if those of us who work with them were able to see our own biases and work through them in order to promote fair treatment.

I look forward to sharing knowledge with and learning from my cohort in order to gain connection, skills, understanding of what our community needs, as well as gain opportunities to effect positive change in our community through collaboration and leadership.

2015 - Rebecca Bender

Union Gospel Mission of Spokane

In the 1990's I worked in corporate sales. I enjoyed meeting people and the challenge of my job. Later that changed when I was diagnosed with a chronic illness. I became sicker and I eventually went on permanent disability. This caused me great depression, a divorce, becoming homeless and even a suicide attempt. After spending time in a recovery program, I finally embraced the person I have become and my unique circumstances. Both working and volunteering for non-profits encourages me to see people differently. Being awarded the Linda Finney Diversity scholarship has helped me rewrite my story. Leadership Spokane is more than a class about our city. It is a class that teaches each of us to accept others and to embrace the different outlooks we all have. In the 2015 class, we all contribute and we all listen. We listen to learn. My world has expanded and now I want to give back. This scholarship has given me a new way to look at life and I will forever be grateful.

2014 - Shelly Wynecoop

Director & Chief Executive Officer, Spokane Tribal College

I am grateful and honored to have been the first recipient of Leadership Spokane's Linda Finney Diversity Scholarship. My participation in the 2014 leadership class offered me insight into the various interwoven functions of the city from a set of perspectives very different from my own. I hope that my presence in the class likewise provided some alternate perspective to my classmates and the program as a whole. Multiple voices make for responsive organizations, and Leadership Spokane's continued pursuit of realistic representation will pay off in a city of deeper awareness and greater heart.