King Cole Luminary Award
Leadership Spokane has created the King Cole Luminary award to recognize exceptional servant leadership that "lights the way" in the community. The first annual award was presented posthumously to King Forrest Cole at the Leadership Lights the Way Gala. Cole was the "father" of Expo 74 which revitalized the downtown, resurrected the Spokane River environs and led to the creation of dozens of other initiatives, including Leadership Spokane.  As President of Expo '74, Cole was its main spokesman and promoter, but his real skill was his ability to get people to come together to achieve the impossible.
Award Criteria
Visionary leader: sustained belief in a dream in spite of prevailing opinion
Effective leadership: the ability to conceive, design and carry out a successful project, persevering over time against odds and in spite of personal sacrifice
Building Community: ability to persuade others to rally around an initiative and shape the future; the ability to lead from the front and the willingness to work in the trenches
Stewardship: the ability to hold an institution in trust for the greater good of the entire community
About King Cole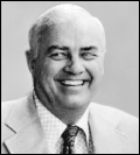 Cole was born in 1922 in Grand Junction, Colorado. After serving in the Navy during WWII, he graduated from the University of San Francisco with a law degree. He was assistant director of the Sacramento Redevelopment Agency and director of the San Leandro Community Development Office. He came to Spokane in 1963 to assume leadership of Spokane Unlimited, a business group with plans to rejuvenate Spokane's downtown business district and jump-start a lagging economy.
At that time, railroad yards obscured the Spokane River falls that flowed through downtown. Plans for the urban renewal of Spokane, in conjunction with a 100 year celebration of the city began in earnest in the late 1960s. The idea of a world's fair was born as a means to an end – a revitalized urban core and a restoration of the river and falls with a beautiful downtown park.
Cole traveled 700,000 miles in three years, garnering support from local, state and national leaders and the Bureau of International Expositions. He helped broker the deal between the city and railroad officials who agreed to a land swap for most of the needed property.
Expo '74 opened May 4, 1974, to a crowd of 85,000. Speakers included President Richard Nixon, Gov. Dan Evans and Congressman Tom Foley. The event pumped an estimated $150 million into the local economy and surrounding region. Following the success of Expo '74, Cole formed an urban planning and consulting business and worked as a consultant on a number of Expos and world's fairs. He continued, until his death in 2010, to be a champion for community stewardship, urban renewal and for bringing together private and public partnerships to achieve goals.
2023 Recipient - Amy Knapton Vega

Amy Knapton Vega, Leadership Spokane Class of 2016, has been making a difference in our community for over 25 years, through her work at Vanessa Behan. Amy believes in making a difference in the lives of children and families in our community, so families can change their trajectories to overcome generations of poverty and dysfunction. She believes through support and education, every family can heal and raise happy, healthy children. Amy is a strong advocate for those who are parenting or raising children in the toughest of circumstances. Her passion and conviction about the importance of serving all children and families who reach out to Vanessa Behan turned into millions of dollars in donations from our local community. When Vanessa Behan needed a bigger facility, Amy took the time to meet with every subcontractor and worker so they could understand the project was more than just a building. This led to reductions in the project's budget and creative problem solving. Ultimately, the project was finished on time and within budget!

When the pandemic was adding to the stress of families, Amy made the decision to remain open. She made a contact at the Spokane Regional Health District whom she called every day for updates and guidance on keeping children and staff safe. In fact, Vanessa Behan expanded service during the pandemic increasing the age range, from birth to six to birth to twelve. The larger space allowed Vanessa Behan to put children in smaller groups for social distancing and with diligent sanitization and masking, Vanessa Behan remained open every day and avoided mass outbreaks among children and staff.

Amy can persuade others to rally around an initiative and shape the future, with her ability to lead from the front, and willingness to work in the trenches. Every June, Amy stands in front of approximately 1000 people to share the story of Vanessa Behan at the annual Benefit Luncheon. She then asks for their support in the form of a monthly commitment. She effectively shares the story, inspiring others to give in support of children and families they will never meet. This is a vital part of Amy's position as Executive Director. Amy has been at the helm for nearly 17 years, and in those years, Vanessa Behan became a respected household name and a treasured community
organization.

2022 Recipient - Dr. Joe Albert

Dr. Joe Albert has been a visionary leader in our community for over 47 years and truly embodies the spirit of Servant Leadership. His servant leadership journey began in 1975 when he cofounded Spokane's Peace & Justice Center. Joe subsequently had a variety of roles in our community; in each new role he focused on the meaning and purpose of his work. After receiving an MA in counseling, Joe served those in need as an elementary school counselor and an Adult/Family Counselor with Catholic Family Services here in Spokane. He decided to study leadership and earned a PhD in Leadership Studies from Gonzaga University in 1993. His studies helped focus his efforts on leadership training but also to broaden his sphere of influence. Joe transitioned into a role as Assistant Professor and Chair within the Department of Leadership Studies at Gonzaga in 2001. Just three years later, in 2004, he became the Director for Comprehensive Leadership Program for Undergraduate studies.

Joe has always been an innovator. He cofounded Leadership Connections; a collaborative including Gonzaga University, Leadership Spokane and Whitworth University. He was instrumental in founding Gonzaga's Emerging Leaders Program which as continued to grow to become the Office of Leadership Training and Development. Through Joe's leadership in the late 1990's, GU's Master's Program in Organizational Leadership experienced a turnaround in enrollment and has gone on to become one of the largest graduate programs on the Gonzaga Campus. In 2010 he became the Associate Dean for Professional Studies and then for five years, Acting Dean for Professional Studies. He continued working towards his dream of creating a School of Leadership Studies which culminated in 2017 when the founding of this school was announced. This School of Leadership studies has been his dream for most of his professional career. Joe has had a sustained vision, has persevered for many years, given of himself, and been an amazing leader for the Gonzaga community and all of Spokane.Through his direct teaching to students as well as his work with organizations, Joe has influenced hundreds of people to be not only better leaders but also to be better personally.

2021 Recipient - Paul Read

Paul Read is publisher of the Journal of Business, a business newspaper that covers the greater Spokane-Coeur d'Alene market. Paul was one of the first six employees of the Journal when it was founded in 1986, and has been involved in the coverage of business news in Spokane for about 35 years. Prior to being named publisher in 2012, he held the positions of managing editor, assistant editor, and operations manager.

A Spokane native, Paul is a graduate of Eastern Washington University.

He serves on the boards of Greater Spokane Incorporated, Boys Scouts of America INW Council, Greater Spokane Valley Chamber of Commerce, United Way of Spokane County, the Association of Washington Business, Spokane-Kootenai Real Estate Research Committee, and the national Association of Area Business Publishers. He is a past vice-chairman of Visit Spokane, past president of the local chapter of the Society of Professional Journalists and past chairman of the Children's Home Society of Washington, as well as an elder at Hamblen Park Presbyterian Church.

2020 Recipient - Ted McGregor

Ted McGregor was raised in Spokane, attended Gonzaga Prep High School, and always had vision of making Spokane better. In 1993, while studying for his Master's at University of Missouri, he completed a professional project in starting a weekly newspaper in Spokane. That dream and paper continues today known as The Inlander, where Ted serves as the publisher. As the current chair of the Riverfront Park Committee, his work to revitalize Riverfront has been his focus for the past eight years. During this time, Ted led a team to develop the original plan in 2014 and making sure the $64.3 million dollar bond made Riverfront Park one of Spokane's crown jewel. Since this time, the park has featured the new Numerica Ice Ribbon, a new facility to house the Looff Carousel, the new promenade, and the remodeled U.S. Pavilion. Faced with several challenges through the project, Ted was instrumental in keeping the committee working together and moving forward to find the best solutions while remaining true to the original plan. Receiving the award named for the man who brought us Riverfront Park in the first place is fitting for the one that is ensuring it is enjoyed for generations to come.
Leadership Spokane is proud to present Ted McGregor as the King Cole Luminary Award winner in honor and recognition of his servant leadership. He is well appreciated, respected and revered in our Spokane community, following in the footsteps of King Forrest Cole, Jack Geraghty, Don Kardong, Scott Morris, Lisa Brown, Elson F. Floyd, Rob McCann and Gordon Budke.

2019 Recipient - Gordon Budke

Gordon Budke's presence can be felt in nearly every corner of our community, you would be hard pressed to find an organization that has not had Gordon's involvement at some level. Semi-retired but still traveling thousands of miles a year with Budke Consulting PLLC, Gordon epitomizes the Leadership Spokane mission to deliver dedicated leaders to our community who engage and partner to strengthen it. He has helped and mentored small business owners and young CPA's, creating a Gordon Budke / Junior Achievement Endowment Scholarship Fund and mentored large committees changing Spokane forever including Wampum, Momentum, Focus 21 and the Eastern Development Committee which eventually evolved into the Eastern Washington University Foundation. He served as a founding member on the Downtown Partnership committee developing the downtown you see today. Gordon still serves on the boards of Yokes, Banner Bank, Junior Achievement, and KRB Trust bringing valuable guidance to companies and individuals in the Spokane region to ensure success.

2018 Recipient - Rob McCann

Rob is a magnificent leader with a grand vision of bringing hope and dignity to the less fortunate. Rob was nominated for his compassionate and effective advocacy of the homeless, expressed through his work in the planning, development and construction of the House of Charity Shelter, St. Margaret's Shelter, and through his deft leadership as Executive Director of Catholic Charities. Rob skillfully manages 720 employees, 6,500 volunteers and oversees 13 programs. With his innovative leadership and influence, Rob has been instrumental in accessing state tax credits to build four much needed new housing communities in Spokane, with 125 more housing units to be built in 2019. Additionally, Rob has overseen the opening of the Catholic Charities' Furniture Bank, providing essential household furnishings to over 800 low-income or formerly homeless individuals in Spokane. Rob's leadership extends beyond Catholic Charities to his service in community boards including the United States conference of Catholic Bishops – National Advisory Board, Providence Health Care, SHMC Foundation, United Way and the Nazareth Guild. He also recently received the 2017 Sister Peter Claver Humanitarian Award.

2017 Recipients - Elson Floyd and Lisa Brown

A native of North Carolina, Floyd is remembered as a can-do leader and nationally recognized academic leader. Before taking the position of presidency at Washington State University, he held respected positions at universities across the country. He earned a bachelor degree in political science and speech, a Master's degree in adult education, and a doctor of philosophy degree in higher and adult education, all from the University of North Carolina at Chapel Hill. During his tenure, Floyd brilliantly conceptualized a school that could train doctors to serve individuals across Washington, thus addressing the growing rural physician shortages. His leadership legacy is the Elson S. Floyd College of Medicine which is currently accepting applications for the first class of physicians.

Dr. Lisa Brown helped realize Floyd's vision, helping to establish the College of Medicine as its most ardent supporter by rallying a world class team of leaders to build it. Prior to joining WSU Spokane as chancellor, Brown taught at Eastern Washington University and Gonzaga University, and served in the Washington Legislature for 20 years where she was a passionate advocate for health sciences education and research, establishing the groundwork for the future medical school. She also became the first Democratic woman in the state to hold the position of Senate majority leader. Brown studied economics at the University of Illinois and at the University of Colorado where she earned a PhD.

2016 Recipient - Scott Morris

Scott Morris is a Spokane native whose focus has always been people. His out-front leadership and philanthropy, which are felt throughout the community and beyond, and his involvement and significant support for local, regional and national organizations and initiatives, earn him praise from many. Early in his tenure, Morris led the way in developing and implementing the first-in-nation tariff to provide enhanced energy assistance funding, lessening the burden for those most in need. Morris continues in his objective to provide value for customers, showcased by the customer satisfaction ratings exceeding 90 percent for the last 14 years, and demonstrates openness and transparency to help build employee confidence and trust in company leadership.

Contributing to the strength of the Spokane community, he led the development of the Avista Foundation and is committed to the sustainability of the partnerships Avista forges for the betterment of dozens of communities, not just Spokane. Morris' dream for giving something of significance back to the community was fulfilled in the Gathering Place Plaza, given to the City of Spokane, and he will expand his vision through a permanent and sustainable relocation of the Mobius Science Center for a $1-per-year lease, and proximity to some of the most spectacular scenery and learning opportunities in Spokane. His personal philanthropy has been equally large as he has provided significant support for organizations, including the Salvation Army, Vanessa Behan Crisis Nursery, SNAP and Gonzaga University.

2015 Recipient - Don Kardong

This year's recipient, Don Kardong, born December 22, 1948, is a noted runner and author who represented the United States in the men's marathon in the 1976 Summer Olympics in Montreal, Canada. Beyond his running prowess, he is being awarded the King Cole Award for his visionary and effective leadership and keeping Spokane on the world stage much as King Cole did with the 1974 Expo. In the fall of 1976, Don suggested to a local reporter that Spokane should have a downtown run of its own and the newspaper published the story on the front page. Spokane was enjoying renewed interest in its downtown area after hosting the 1974 World's Fair (Expo '74), and a fun run that took advantage of the newly renovated downtown and Riverfront Park seemed a natural fit. Notably, on May 1, 1977, Don founded with a thousand runners the Lilac Bloomsday 12K. With his passion for fitness and Spokane coupled with extraordinary teambuilding skills, he built an annual race that now draws over 50,000 runners a year to our local area and keeps Spokane as part of the world conversation. It is one of the largest road races in the world. Don also was Executive Director for the Spokane Children's Museum from 2002 to 2004.

Leadership Spokane celebrates Don's leadership daily and is proud to present him our third annual King Cole Award to honor the illumination he has provided Spokane for over four decades. Those interested in celebrating Don's award on 30 January are invited to come and take part in this inspiring evening to congratulate him and acknowledge the impact of Leadership Spokane since its founding in 1982.