DaZelda Scholarship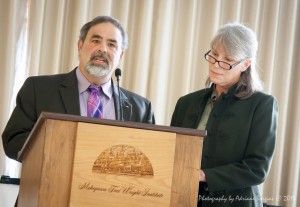 The DaZelda Scholarship, created and administered by Susan and Ira Amstadter, Class of 2000, owners of Express Employment Professionals, is awarded to an incoming member of the adult Leadership Spokane program who demonstrates a passion for his/her community, finds creative and innovative solutions to problems, has a zest for life and can answer the question, "What can you do today to strengthen your heart and increase your capacity to do good in the world?"
Zelda was Ira Amstadter's grandmother and lived to be 97 years old. The DaZelda Scholarship was established in Zelda's memory to honor her spirit of zest, vigor and sense of community. Founder Ira Amstadter says "My grandmother was a woman full of life and zest, and I am sure she would be proud of how we have chosen to honor her. The scholarship is a family choice. The applications are passed around to almost all the members of the family, and we collectively choose the winner. She would be proud that we as a family are helping to improve the community one person at a time."
2023 - Krista Gangis

Veteran Service Officer, Spokane County

2020 - Jen Westra

Coach / Owner, Life on Purpose Coaching

2019 - Marianne Sfeir

Business Analyst, Northwest Farm Credit Services

2018 - Sarah Bain

Chief of Staff, Zen Caregiving Project

2017 - Skyler Oberst

Legislative Assistant, Spokane City Council

After witnessing a religiously motivated act of hate, Skyler founded the Compassionate Interfaith Society on his undergraduate campus and began working with civic leaders to create a more pluralistic community in the greater Spokane area. Since then, he has spoken on the power of interfaith cooperation internationally and at the White House, contributed to the Millennial Values project at the Berkeley Center at Georgetown University, and has been a research associate mapping out religious landscape of the Inland Northwest at the Pluralism Project at Harvard University.
Skyler has spent the last year as a Germanacos Fellow for the Interfaith Youth Core, where he developed the award winning "Meet the Neighbors" campaign, an online toolkit complete with videos for exploring Spokane's religious landscape. The project gained national attention this year and has been hailed as an innovative project by the White House. Skyler currently serves as an Ambassador to the Parliament of World's Religions, the Vice President of the Board of Trustees for Spokane Faith & Values, and the President of the Spokane Interfaith Council. He also works as a legislative staffer to the City Council in Spokane and is an avid fan of marmot watching in Riverfront Park.

2016 - Suzy Greenwood

Administrator, Rotary Club of Spokane #21

When I was approached by one of my Past Presidents about participating in Leadership Spokane, I was honored. A further suggestion to apply for the DaZelda Scholarship delighted me. I have the distinct privilege of knowing the Amstadter family and have heard stories of Zelda, the wonderful woman for whom the scholarship is named. The opportunity to represent this very special lady and her ideals inspires me. Zelda was a woman of such heart and principal. I am very proud to carry forward this piece of her legacy as I spend the next year in Leadership Spokane, and then the years to come discovering each day new ways to embrace our community, to "strengthen my heart and to increase my capacity to do good in the world." I want to thank the Amstadter family for believing in me and my Board of Directors for investing in this program on my behalf. I am looking forward to an amazing experience.

2015 - Sarah Wallin

Member Development, STCU

As the leader of a grassroots nonprofit, I knew that our budget just wouldn't support the cost of tuition for Leadership Spokane. However, after attending an informational briefing, I knew that the value and benefits of the program far outweighed the monetary cost. I was determined to make it work and after some digging, learned about the DaZelda Scholarship provided by the Amstadter family. I have become a recipient of the scholarship and have had the privilege of joining the Leadership Spokane Class of 2015 because of it. Thank you for the opportunity to join this amazing program!

2014 - Marshall E Peterson Jr

Marshall the Photographer

Spokane is a richer city when everyone is offered a seat at the leadership table. Winning the DaZelda scholarship allowed me, a small business owner and artist, to spend a year with other emerging leaders deepening our knowledge base and building relationships – both of which help us to work together to make Spokane a better place for all. I am deeply grateful to Ira Amstadter and his wonderful family, especially grandma Zelda, the inspiration for the scholarship. Ira is a shining example of how alumni can use their resources to positively affect Spokane. Are you the next Ira?

2013 - Bobbie Domonouski

Property Management, M T Management Inc

I applied for Leadership Spokane, class of 2013, knowing I would need a scholarship(s) to attend. I received assistance from the Leadership Spokane scholarship fund, and then amazingly was awarded the first ever DaZelda Scholarship. I worked for a non-profit that would have been unable to cover the tuition. As someone who has spent my career working in the servant leadership environment every day, I am grateful for the wonderful opportunity it provided me to learn more about our community assets and needs and to interact with other servant leaders. I will forever be grateful to Ira and Susan Amstadter for their gift!