LEADERSHIP CONNECTIONS
---
Thank you to those who attended our November Leadership Connections with Erin Jones!
Our next Leadership Connections will take place in May 2019 - more details to come. 
---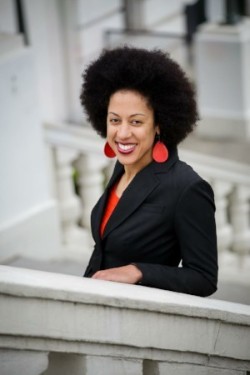 No Time for Flinching: Leaning in to Difficult Conversations in Difficult Times
As a nation, we are living in perilous, polarizing times. Far too many conversations devolve into "us" against "them". Are you looking for ways to engage family members and/or colleagues in courageous conversations? If so, come hear Erin Jones share her personal journey into work she believes she is uniquely called to do – be a bridge in polarizing times. She will share her WHY story as a way to help you connect to yours. She will provide us with tools and strategies to engage and our own spaces of influence. You will leave the breakfast inspired and challenged to engage in new and different ways.
Erin Jones has been involved in and around schools for the past 26 years. She has taught in a variety of environments, from predominantly Black to predominantly White to some of the most diverse communities in the nation. Erin received an award as the Most Innovative Foreign Language Teacher in 2007, while working at in Tacoma and was the Washington State Milken Educator of the Year in 2008, while teaching in Spokane. She received recognition at the White House in March of 2013 as a "Champion of Change" and was Washington State PTA's "Outstanding Educator" in 2015. After serving as a classroom teacher and instructional coach, Erin worked as an executive for two State Superintendents. Erin left the Office of Superintendent of Public Instruction in 2012 to work in college-access at the school district level. She left her job to run as a candidate for State Superintendent and was the first Black woman to run for any state office in Washington state, a race she lost by a mere 1%. Erin has one college graduate, one who's a senior at Harvey Mudd College and one starting a welding program in the fall. Her husband of 25 years, James, is a teacher in North Thurston School District.
---

---
The mission of Leadership Connections is to refresh and energize the region's leaders and to connect them with one another.  Founded in 2002, the nonprofit collaboration among Leadership Spokane, Gonzaga University and Whitworth University provides community members the opportunity to further leadership development through a fall and spring series of educational and networking breakfast workshops.