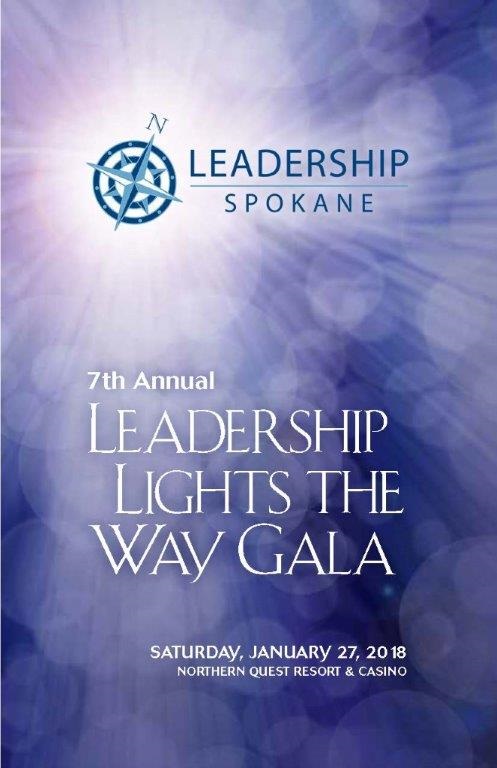 Leadership Spokane is committed to the truism that leaders always learn. This is the week for our 7th Gala. It was the dream of past Executive Director Linda Finney and her Board of Directors to create an event that would be a celebration of leaders and a means to raise funds for future leaders to attend our program. Last year, we dedicated the Gala to our youth program and we intend to do the same this year as our youth program continues to grow by leaps and bounds. As I look ahead to this week's weather forecast, I am always amazed we have the event in January with all the potential winter jeopardies. It does certainly beat the fall where a plethora of well deserving nonprofits celebrate their mission.
Yet, as we move through this wintery month with its long nights, it is clear to me that metaphorically our Leadership Lights the Way Gala is absolutely in the right month. Light is a stunning element which always pierces the darkness. The Biblical passage "The light shines in the darkness, and the darkness can never extinguish it" is true indeed. Having visited many deep and pitch black caves, even the smallest of light sources always overcomes the darkness in the room…always.
Leadership is similarly as amazing in its ability to transform things for the better in the darkest of times. Companies running off the rails, sports team losing their momentum or military units disintegrating can all be overcome when the right leader steps in to save the day. Leaders provide vision, wisdom and, most importantly, energy to move forward. Leaders also have a secret ingredient—hope. They see the glass half full, believe in a brighter tomorrow, and good leaders have one other advantage—they can convince those around them to believe. Taken together, these elements provide light in even the darkest of situations.
This year, our Gala celebrates Catholic Charities Executive Director Rob McCann and Northern Quest leader Yvonne Smith. Both leaders exemplify leaders who light the way for others. We use lights to navigate ahead in darkness. Leaders likewise become beacons for us—their vision sheds light on difficult situations. For Rob, he has adroitly led his charity to help those most in need in our city. Yvonne has charted a similar course using her time to volunteer for a number of vital causes in our community. Each has a boundless optimism that energizes any movement they join.
Poet Dylan Thomas wrote a sonnet while mourning his dying father, and it expresses a sentiment all leaders with hope bring to difficult situations: "Do not go gentle into that good night, Old age should burn and rave at close of day; Rage, rage against the dying of the light."
A leader's best rage is their plan of action for good. For servant leaders, it is their plan to serve.
In retrospect, our Leadership Lights the Way Gala is perfectly planned midyear. Winter's darkness gives way to leadership's light. Rob McGann, Yvonne Smith and 1,286 other alumni have blazed a trail for Spokane others will follow. Leaders do light the way.
"When the servant discovers the opportunity to make a difference by leading, and steps into a leadership role, then he or she becomes a servant-leader. A servant-leader is thus a servant who happens to be leading." ~ Robert Greenleaf