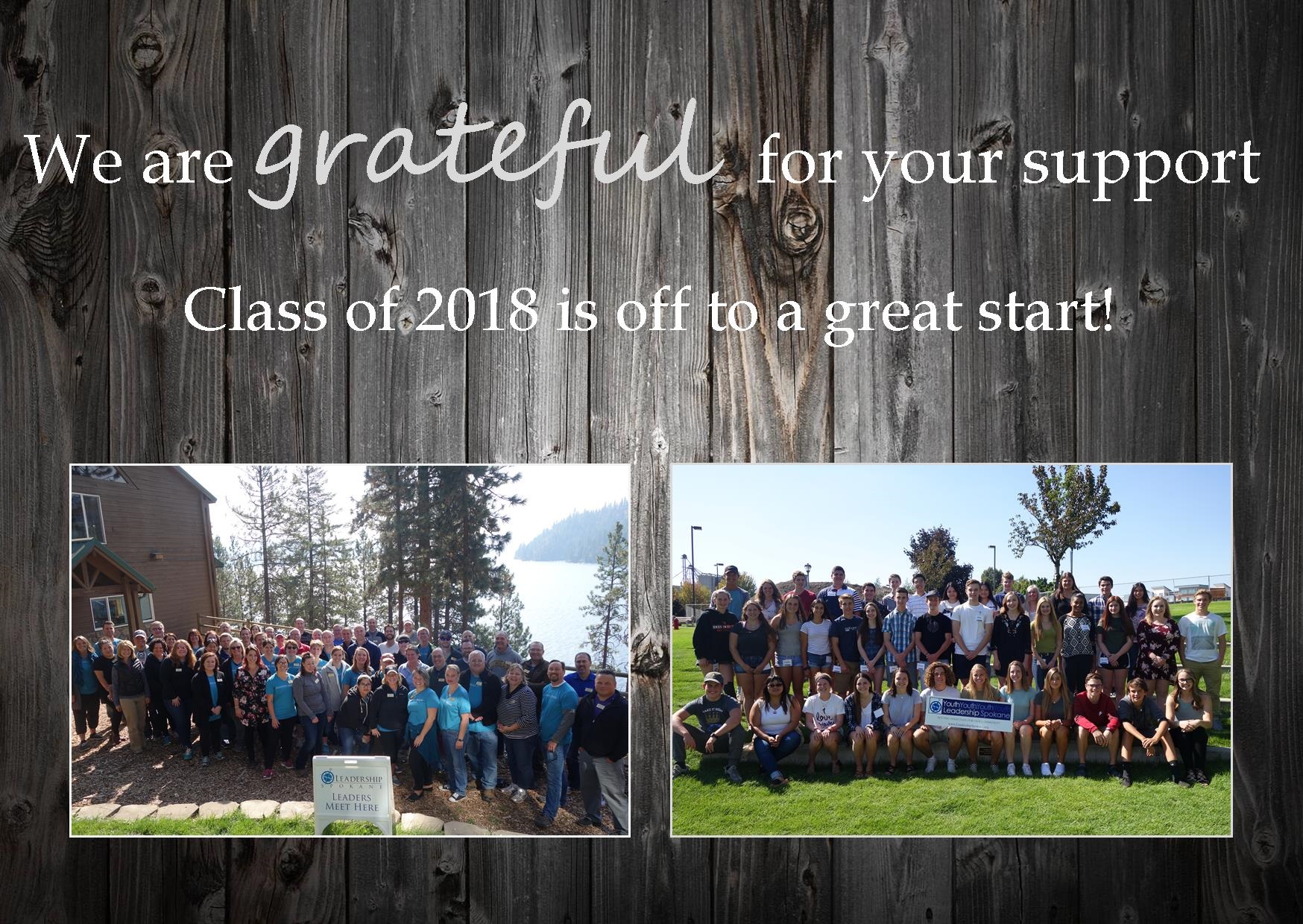 Leadership Spokane is committed to the truism that leaders always learn. With Thanksgiving 2017 here, I always appreciate the opportunity to comment on gratitude. I admire and teach the 10 Robert Greenleaf servant leader characteristics and always try to include presence, perseverance and patience in the 10. A final trait I would add if given the opportunity is gratitude. It is such a powerful attribute. In addition to helping others by patting them on the back, gratitude helps the giver—lending truth to the adage, "It is better to give than receive."
Author Janice Kaplan in a January 2013 Good Housekeeping article makes a compelling case when citing a famous gratitude psychologist: "Gratitude, it turns out, functions as 'a psychological immune system that bulletproofs you in times of crisis,'" says Robert Emmons, Ph.D., professor of psychology at the University of California, Davis, and author of the forthcoming Gratitude Works! A 21-Day Program for Creating Emotional Prosperity. It's hard to feel fortunate when you lose your job or home, or when you face a difficult illness, but an ability to refocus can get you through. "Our mind often latches on to what is wrong. There's no need to ignore the negative or say life is perfect," Emmons adds. "But once you have the skill of coping gratefully, you can find a new, redemptive frame of reference."
Wow – well said – giving thanks has a powerful and positive physical and physiological impact on the sender and the receiver.
As Leadership Spokane moves into the middle of its 36th year, I am incredibly cognizant of so many that make this program move forward. Our mission of delivering leaders is a noble one, but good intentions are often not enough to move things upward. There are so many alumni who give back to our program and we would not be the same without them. Alumna like Susan Ashe, Class of 1985, who make a point to pick up the phone and ask "How can I help?" keep our program vibrant. Our growing alumni board brings vitality into the legacy of excellence we are proud to have. We give thanks to all our alumni for making us a program of distinction.
I also give thanks to all the directors and staff who came before me including Linda Finney and Beth Budke for their efforts to grow a program that has one purpose, to build our spirited community. We prepare to celebrate our 7th Leadership Lights the Way Gala which supports our youth program and assists adults to attend our program. This annual celebration of our alumni was the vision of Linda and continues to light the way for future leaders.
Similarly, our sponsors who stand up and say we stand with leaders always makes my heart swell. With so many worthy causes in our region to support, it is truly humbling when our annual sponsors, day and lunch sponsors, Gala sponsors and graduation sponsors say "Count me in." I also appreciate Board President Jennifer Lehn of Numerica and our dedicated board who carry on as trustees, keeping the lamp of leadership burning bright all four seasons of the year. We give thanks for them.
On personal level, my life is full with my wonderful family and a new puppy that keep my me laughing, and a generous Spokane School Board led by President Deana Brower who invited me to their team. Spokane is a friendly town and that is clear to me daily as I always run into good cheer on my walkabouts. This past weekend was no different. I ran into Philip Tyler, former local NCAAP President, at Gonzaga, and his positive vibes added skip into my step. I also ran into Chud Wendle, Class of 1994, and Executive Director of Hutton Settlement, who took the time on his weekend to speak to my Gonzaga University students for a business class. I am always reminded in Spokane of Yeats' famous quote: "There are no strangers here; only friends you haven't yet met."
In short, if Emmons' grateful predictions are true, my immune system should be mighty indeed because I am very grateful this Thanksgiving for the blessings of a leadership program that continues serving others with zest and little spice. The Classes of 2018, both adult and youth, are giving all they've got. My staff, Ruth Reynolds and Jaxon Riley, are truly the best in the business. I thank them for putting others first daily. Gratitude is contagious, so may this blog remind leaders everywhere that leaders lead best when saying "Thank you!" Good leaders always give thanks.
"Gratitude makes sense of our past, brings peace for today, and creates a vision for tomorrow." ~ Melody Beattie