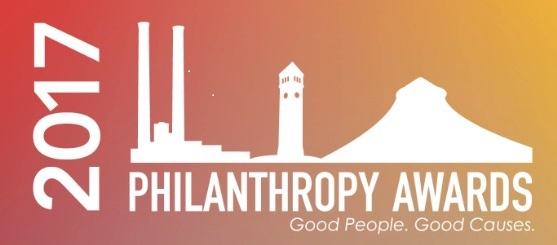 Leadership Spokane is committed to the truism that leaders always learn. This past week, United Way's vibrant group of young leaders known as Emerging Leaders Society honored Spokane's philanthropists for their good works and good causes. Our alumni were among the nominees, including Joyce Cameron, Class of 1987, Skyler Oberst and Amanda Swan Roadruck, Class of 2017, as well as youth Maggie Bailey and Brooke DeRuwe, Youth Class of 2017. Skyler and Brooke were also named the year's philanthropist award winners. It was a good luncheon and reminded me of our philanthropic core mission. Our leaders are inspired to build community—improving the genuine welfare of others, and our alumni do just that.
As I sat in the ceremony excited for our alumni, I reflected on how these leaders have given to others by promoting their wellness. Joyce Cameron has magnificently led the Pumpkin Ball which has built Sacred Heart's capabilities for children and boosted the Vanessa Behan Crisis Nursery. Amanda has done similar good works with Numerica's outreach, supporting so many good causes with the help of the generous credit union's philanthropic arm. Skyler as President of the Interfaith Council connects neighbors across the region to better understand cultural differences and grow as a community. Brooke is an encourager and helps students around her succeed in their ambitions. Maggie always leads by example and nobly promotes a platform of confidence and enhancing self-esteem in her role on the Miss Spokane Association. Collectively, all five individuals immeasurably improve the wellness and welfare of our community. It was right to thank them this week.
Harvard historian Nancy Koehn gave a famous Ted Talk where she indirectly gave a shout out to what philanthropy does for all those who witness it. She says "effective leaders help us overcome the limitation of our own selfishness, weakness, laziness, and fears, and get us to do harder, better, more important things that we can get ourselves to do on our own." This statement epitomizes why philanthropy is such a powerful force for helping the general welfare. On the one hand, direct philanthropy—whether it is financial or offering a helping hand, is a direct benefit. An indirect benefit showcased by each nominee is how philanthropy motivates us all to do harder, better, more important things.
This week, Alabama football coach Nick Sabin effectively made the same point when he talked about how difficult it truly is to go above and beyond for all 12 season football games. He commented that the human condition is to survive, and that it takes internal motivation to go above and beyond on a consistent basis. So true, so true. That is why all the nominations deserved a standing ovation this week. Consistent philanthropy means consistent giving of one's treasure and one's time, and that is tough work.
Robert Greenleaf's servant leadership characteristic "commitment to the growth of people" is really a call for leadership philanthropy. Servant leaders give of themselves to help others grow. This is not simple addition, but multiplication. Philanthropists inspire those they help to give back, which spreads to others to pay forward as well. It is the ultimate butterfly effect; the human ability to make a difference is not only timeless, but also monumental in impact. To all our nominees, we celebrate your philanthropy. You remind us that at our core as servant leaders, we are philanthropists.
We may not have the power to create the world we want immediately, but we can all start working on the long term today. ~ Mark Zuckerberg