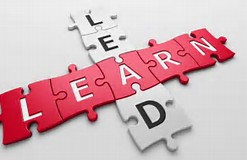 Leadership Spokane is committed to the truism that leaders always learn. This week as America comes to the aid of Hurricane Irma and Hurricane Harvey victims, I am always impressed by the notion that leadership can be transitory. Some leaders show leadership by their professional roles, some better than others. Other leaders emerge and it is these leaders who show characteristics of vision, perseverance, and conceptualization that make a significant difference in the lives of others.
I always enjoy watching an exercise we accomplish with our adult class which is based on perspective. At some point, one of the adult leaders emerges and directs efforts by collecting input and leading a coalition of the willing to accomplish the task. This informal leader always emerges and leads to the exercise's successful conclusion. It is always a challenge to guess beforehand which of the adult leaders will put the pieces together and vocalize that vision and then persuade the rest of the group to follow. Sometimes it is the extrovert, other times the introvert but without exception, an informal leader will emerge and the situation always takes a turn for the better.
Famous leadership author James Kouzes makes the point that only a handful of leaders do not have the innate characteristics to lead. Most of humanity has the ability to standup and chart a course of others. This is always evident in emergency situations when formal leaders are not present and informal leaders save the day.
As an example, recently, 23 year old Galeon Phillips grew tired of waiting for help in his rooftop of his Port Arthur flooded home after Harvey passed through. He finally found a boat and using his social media mastery identified neighbors in need of help and recued 50 of them on an incredibly rain-soaked hurricane day. Galeon emerged as a leader and a hero.
Likewise, as we pay tribute to the 2,996 victims of 9-11 this week on the 16th remembrance of that day of infamy, no better example of leaders emerging exists than the passengers of Flight 93. Their hijacked airline hurtling east, probably bound for the Capitol, the passengers made phone calls to their loved ones learning about the earlier airline crashes at the World Trade Center and Pentagon. They knew they were not heading back to land safely. Faced with these tragic circumstances, leaders began to emerge like Todd Beamer who collected some of the passengers back by the galley. Discussing their circumstances and possible courses of action, the passengers chose to take on the armed hijackers using galley carts and pots of hot coffee. What is most inspiring and indeed so American is the passengers actually voted on the course of action to get buy in. In the painful process, they lost their lives in the fields of Pennsylvania, but they saved countless others who were the targets that day.
Today's blog is meant to celebrate that we can all lead when circumstances dictate. We don't have the carry the title "CEO" to stand up and say "Let's roll" as the most famous Flight 93 passenger Todd Beamer exclaimed as they charged down the airline aisle to take back their freedom. We can all lead. Leaders will always emerge.
"To every person there comes in his lifetime that special moment when they are figuratively tapped on the shoulder and offered a chance to do a very special thing, unique to them and fitted to their talents. What a tragedy if that moment finds them unprepared or unqualified for that which would be their finest hour ~ Winston Churchill