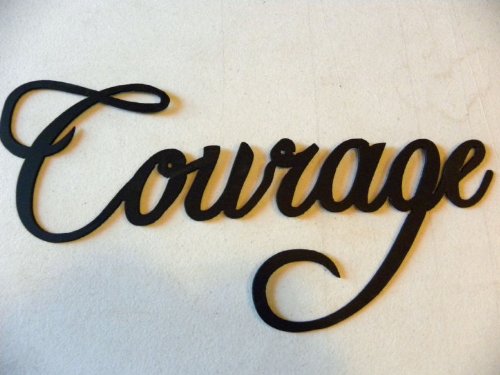 Leadership Spokane is committed to the truism that leaders always learn. Fifth and my final in a series of off the beaten path summer leader blogs is the importance of courage. In the past four weeks, we've discussed the importance of leaders having fear and asking for help, which both point to another critical servant leadership characteristic – showing vulnerability. I discussed last week the importance of leaders staying grounded. All these blogs have highlighted the central core of all servant leaders to be human, to show strength and weakness, so as to always stay connected to those they lead and serve. It is an easy concept to comprehend in theory, but hard to pull off in practice as the strong person tenets of leadership often push leaders far away from their followers. My final "one off" summer leadership lesson is the importance of leaders staying grounded but still showing moral courage to set the bar high for all. I have spoken on courage often but what this blog reminds us is the importance of small acts of courage to shift the entire conversation for the good.
This week, millions worldwide solemnly remember the passing of Princess Diana, killed in an auto accident August 31, 1997. Her short life had incredible ups and down, but 20 years later, there are several instances of courage she showed that impacted society for the better to this day. During her life, her small acts of public kindness were known as "Princess Di courage." Case in point, during the height of the AIDS crisis, Princess Diana visited a public hospital and was photographed shaking the hands of an AIDS patient with bare hands. Today, the action seems small in stature, but at ghe height of the disease's hysteria, the action was seismic. The picture hit the global media and sent a message that calmed healthcare providers and family members across the world. It brought those afflicted with the deadly disease solace. It allowed AIDS patients to feel connected as it bridged a chasm that was growing quickly between those inflicted and those fearing the disease – amazingly, a handshake made a difference for thousands.
Another brave act Princess Di engineered in her final years was visiting active mine fields and tending to the children who had lost limbs to them. In perfect Princess Di fashion, she would walk into the mine fields with a guide to make a declarative point that we as a society need to stop laying mines or all humanity was at risk. Beyond the physical danger of these visits, she incurred incredible wrath from the British munitions industry which had cornered the market in providing landmines to the third world. Should these mine fields be eradicated, British industries would undoubtedly suffer. Princess Diana showed courage in her actions because she saw it as the right thing to do to protect humanity no matter the consequences.
Admittedly, most leaders do not have the world stage that Princess Diana had to show moral courage. But, each of us can stay connected to those we lead by showing vulnerability, asking for help, staying grounded and acknowledging fear. When called for, though, we should take the metaphorical stage and do the right thing publicly. I, for example, made an effort in my military career to connect with the youngest Airmen by visiting their workspaces, having lunch sessions and other structured activities to better understand their needs. While not completely out there as a practice, it did slide against the traditional military hierarchical model, where rank dominates relationships. It was a small act that had positive benefits of opening up communications channels and soon other commanders on base followed my processes. When leaders walk the talk, it is natural for other leaders to join in on the march.
Twenty years ago, our world lost a humanitarian leader with the passing of Princess Diana. Her lasting legacy through her children continues, and the example she lived of showing moral courage had a lasting impact for all of us. Leaders should stay connected and grounded – this leads to a strong foundation from which to serve. To motivate others to join the service moment, leaders should find moments to stand out and show moral courage. Princess Di's courage raised us all up. Leaders are courageous.
"Carry out a random act of kindness, with no expectation of reward, safe in the knowledge that one day someone might do the same for you." ~ Princess Diana