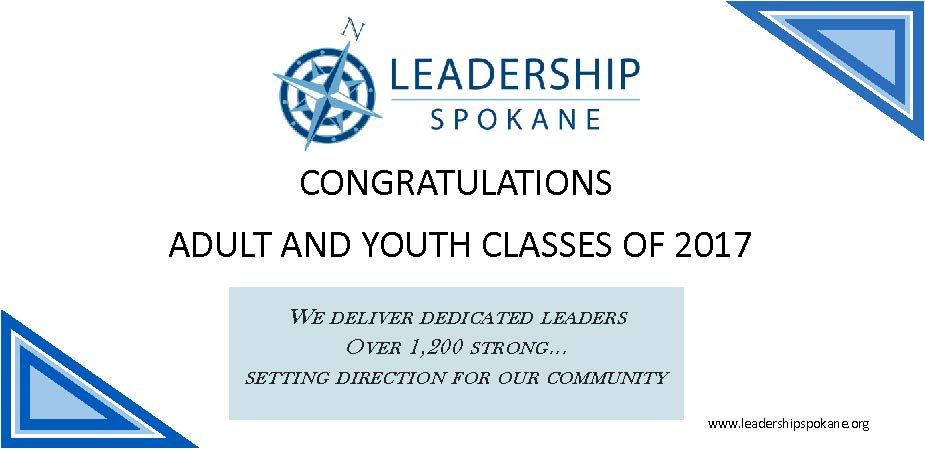 Leadership Spokane is committed to the truism that leaders always learn. This past week was a milestone week for our program as we graduated our biggest classes ever with 101 youth and adult leaders becoming alumni of our program. It was a fun commencement ceremony befitting two fun classes who celebrated all year long. It was no small task moving that many leaders to 20 different locations. I truly appreciate the commitment of my staff, Ruth and Jaxon, for stepping up to the challenge and making the year as memorable as any other year. Their planning and organization was text-book.
My title, "Leaders Appreciate 2017," alludes to us always appreciating the moment. Life can be short and it is a truism that we should always appreciate our health and time we have together. But the title is a salute to my class of leaders in 2017. I am a big proponent that leaders learn and this year was no different on how I have learned so much from our leaders we are privileged to serve with. I reflect on how my classes of 2015 taught me innovation and adaptation. My classes of 2016 taught me how important 'heart' is to servant leadership effectiveness. My 2017 class taught me the power of dreams. So often, both 2017 adult and youth would ask questions that started with "What if we…." February is our month of focusing on the servant leadership characteristic conceptualization. 2017 defines that characteristic to a tee, having both the big dreams and the plan to make them happen. I look forward to continuing see them soar.
My youth high school leaders started the year strong. I still remember Dylan Pearson, Ferris, who, after visiting with a dozen nonprofits, went back to his school and engaged with his counselors to see if he could start a service club. Such optimism and hope from one of our youngest youth members. I am filled with hope watching Brooke DeRuwe, Central Valley, deliver the commencement address as if she has been an acclaimed orator all her life. Her address demonstrated we are on the right track as the servant leader lessons were captured at key milestones on her journey. I remember Kyiesha Tensley, On Track Academy, who listened to every word that was said and seemed to smile and smile more each meeting. We wish her the best in her continuing life journey. Our youth leaders were extraordinary this year and Ali Hunt, Lewis and Clark, our 600th youth graduate, epitomizes our servant leader example. After asking if she can take the program a second year and realizing she could not, she then asked if she can help with the service projects. Why of course she can! Ali dreams big dreams of helping others and we are confident those dreams will come true!
Our adult class was likewise motivational. I saw true commitment to our program. Chrystal Ortega, Jessica Laughery and Rebecca Bull Schaefer attended nearly 25 tours each when only three were required. We have always had good tourgoers, but never have I seen such commitment from three leaders. It motivated me to be a better director. I learned from Deb Geiger, Spokane County, that quiet confidence is the strongest kind of leadership. I would follow her anywhere and look forward to her continuing accomplishments as a leader in our county. I was incredibly impressed with the number of volunteers who jumped in to help our Gala from 2017, a role normally reserved for alumni. From Linda Crane to Leslie Rogers to so many other engaged 2017 members, our Gala was over the top and our 2017 dreamers made that dream a reality. Albert Tripp, City Planner of Airway Heights, when faced with an incredible water crisis did what all leaders do — they rise to the occasion. His vision, calmness and ability to navigate the waters to keep a crisis from getting out of hand was empowering for the rest of the class to witness. The Class of 2017 is prepared to make our community better and they already have.
This year has, in my estimation, left me as a better leader as I have learned and been inspired by the youth and adults who demonstrate noble actions daily that make us feel special and privileged to live in Spokane. After our last class, Michelle Domreis stepped up to help a person in dire straits. She went out of her way to help this person and in the process was accidently stuck by a needle. As per protocol, she has had to endure painful anti-HIV treatment as a precaution. Throughout it all, her Facebook posts and commitment to helping others have remained joyful and resilient. Michelle is a portrait of courage and, like Ali, epitomizes the strength of 2017. To our community that has yet not met our 2017 leaders, you soon will. I appreciate the Classes of 2017. Servant leadership is their middle name! Tailwinds always leaders — keep leading well!
As we express our gratitude, we must never forget that the highest appreciation is not to utter words, but to live by them. ~ John F. Kennedy