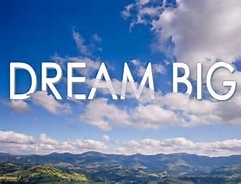 Leadership Spokane is committed to the truism that leaders always learn. As we move into 2017, last week's blog reminded leaders to be resolute in their actions all year long. As the dawn of the new year takes hold, a second critical leadership attribute to remember is for leaders to dream big. Arguably a tangent of vision which I consider central for all leaders, dreaming big is vital to realizing any dreams. Realistically not all dreams come true but dreaming allows organizations and followers to reach for the stars, never a bad thing.
Author Ron Ashkenas in a July 2013 Forbes article "Great Leaders Use The Power Of Dreams" makes a revealing point on the power of lotteries worldwide. Why do so many contribute to lotteries when the odds of winning are so infinitesimal? The answer is people always want to dream and even when the odds are 176 million to one; people still want to believe they have a chance to win millions if not but for a second of their lives. The power of dreams is transformative. Strong leaders are the ones who can harness the power of dreams within the organization. Ashkenas offers: "Great leaders help their people understand how those personal dreams can be aligned with the organization's goals, and why upping their investments will improve the odds of success."
Leadership Spokane has small dreams envisioned in a 2020 strategic document, but the goal of delivering 10,000 leaders remains our overarching goal not to be forgotten about. Celebrating 1,200 adult leaders last year and 600 youth leaders this year are purposeful waypoints to keep the 10,000 leader goal in sight. The current adult and youth classes for the Class of 2017 are the biggest to date pushing our logistical capabilities. Last year, my dream was not to have the biggest classes ever but rather to realize a degree of financial strength for our organization. That dream has been largely realized this year because of the efforts of an excellent staff managing the large classes. Dreaming about what could be has gotten our organization to a new level of sufficiency.
The original American dream as espoused in the Declaration of Independence shows how dreams truly can lead to a movement. Written by Thomas Jefferson who was a Virginia slaveholder, the famous words "all men are created equal" have echoes today. At the time, the words created controversy and threatened to unhinge the whole ratification of the Declaration with Southern states needing to understand better what the words meant. The words stayed as a beacon for a new nation thru the Civil War, thru the ratification of suffrage allowing women the right to vote and thru the more recent Civil Rights movement. The human spirt always need a dream to rally to, and for America, the Declaration of Independence was a dream that allowed our nation to think big, to move ahead as a people.
This new year, leaders should remember to remain resolute in their action. But, all their actions should be guided by something bigger them themselves, by their dreams. Thomas Jefferson had a dream. Centuries later Dr. Martin Luther King had a dream. All leaders dream big.
New Year's Day. A fresh start. A new chapter in life waiting to be written. New questions to be asked, embraced, and loved. Answers to be discovered and then lived in this transformative year of delight and self-discovery. Today carve out a quiet interlude for yourself in which to dream, pen in hand. Only dreams give birth to change. ~ Sarah Ban Breathnach