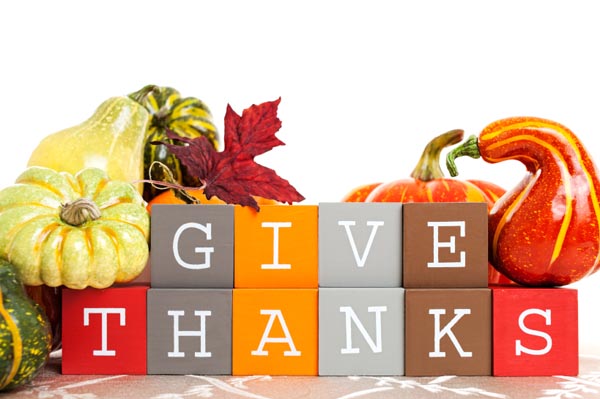 Leadership Spokane is committed to the truism that leaders always learn. This week, our nation celebrates the Thanksgiving holiday first notionally celebrated in 1621 at Plymouth but officially proclaimed by Abraham Lincoln as a day of grace in 1863, seeking the unity of the states during the Civil War. On a macro level, it is helpful to stand back as a community and be appreciative of all the goodness in the area. Spokane certainly has many good achievements to celebrate since last Thanksgiving not the least of which is the amazing togetherness that occurred last November recovering from the crippling windstorm. Taking a moment to be laudatory creates incredible inertia through the power of positive thinking. On a micro level, a servant leader's propensity to be grateful is central to success. Although not considered a core servant leadership characteristic, philosophically gratefulness should be. Servant leaders give much to their followers but the symbiotic relationship exists with leaders needing much from their followers including their trust. Leaders would do well to give thanks for their follower's contributions.
Judith Umlas in her popular book "The Power of Grateful Leadership" acknowledges five areas for leaders to stay grateful on. First, leaders need to be conscious of areas to be grateful for. Second, leaders to make a visible choice to express thanks. It is easy to be grateful early on in relationships but as time goes by, leaders can be forgetful and take for granted the hard work of those around them. Third, Umlas asks leaders to be "courageous to deliver heartfelt and authentic acknowledgment." Fourth, leaders need to intentionally communicate gratitude in the best means available whether vocally or otherwise. Finally, leaders need to commit to staying grateful to remain authentic and thereby not treat it as a passing fancy. Umlas rightly argues that gratitude "[inspires] your team and [brings] out the best in your people by dramatically increasing this level of engagement, productivity and willingness to take initiative." We all like to be thanked do we not?
Carey Nieuwhof in a Thanksgiving blog last year argues roughly the same points in his article "5 Reasons Grateful Leaders Make the Best Leaders." He writes that gratitude improves optimism and attitude, it allows leaders see opportunities through "abundance thinking," it fuels generosity and strengthens the team, and most importantly, gratitude dispels anger and jealousy. Gratitude and smiles are related, and leaders who smile are much more approachable. Nieuwhof writes: "I find when my gratitude is high, I just lead better."
So this Thanksgiving, as you pause to give thanks for your family and friends, take a moment to verbally give thanks to those you lead. The real key for leadership though is to extend that gratitude year round, just not the month of November. For me, gratitude and leadership go hand and hand. Leaders only succeed because of the trust of their followers – acknowledging that often is not only strong leadership, it is the right thing to do. This Thanksgiving, I am deeply grateful for my family, my Airmen I had the privilege to serve with, a program like Leadership Spokane that selflessly delivers dedicated leaders, three adult and youth classes of leaders who I have gotten to know, and Ruth and Jaxon who give their all to make it so. Yes, our best leaders have learned to give thanks.
Gratitude can transform common days into thanksgivings, turn routine jobs into joy, and change ordinary opportunities into blessings. ~ William Arthur Ward