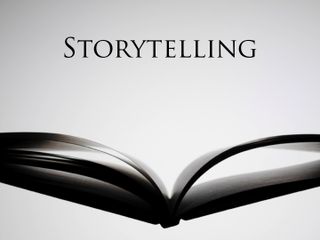 Leadership Spokane is committed to the truism that leaders always learn. As our political season hits full force, I had the opportunity to hear three debates last week at all levels from county to state to our state education superintendents. While listening to a litany of facts and figures offered by the debaters, it occurred to me that what I remember most from all the debate answers were the stories interwoven into the proceedings. It thus reminded me what leaders need to do: story tell! Stories are memorable. They can move the dial in an organization. I made a presentation to high school students this past week on effective interviewing and I reminded them that if they can weave a short story into their answers it would be memorable for the employer's reflections.
Leaders should always keep storytelling as part of their toolbox. David Sturt and Todd Nordstrom in their January 2015 Forbes article "4 Stories Great Leaders Tell to Engage Their People" points out "Proper storytelling just might be the most impactful leadership method yet." In the same article, Keith Queensberry agrees saying in the Harvard Business Review "People are attracted to stories because we're social creatures and we relate to other people."
Good storytelling generally involves a flawed but sympathetic protagonist, a situation, a climax and a resolution generally for the good. Princeton University Professor Uri Hasses conducted a storytelling study: "The results showed that not only did all of the listeners show similar brain activity during the story, the speaker and the listeners had very similar brain activity despite the fact that one person was producing language and the others were comprehending it." A leader's job is to gel a team and storytelling brings everybody together not only emotionally but physiologically.
As servant leaders, our focus for our stories should be our followers. Stories can help share the organization's vision, its past and our follower's successes. As an Air Force leader, I often worked to share stories of each and every Airman's success to the overall mission. Many were familiar with a pilot's role in the air mission, but relaying the transportation Airman's story, the food service worker's tale, etc., is absolutely the role of the leader to tell everyone's story. Storytelling is a part of the human condition. From cave walls to petroglyphs to pyramid hieroglyphics to Shakespeare, stories are a natural extension of our human expression.
Another beautiful element of storytelling—we can all do it because we are all living our story. Steve Denning in a June 2011 Forbes articles summarizes why storytelling and leadership are intertwined: "A story is something that comes from outside. But the meaning is something that emerges from within. When a story reaches our hearts with deep meaning, it takes hold of us. Once it does so, we can let it go, and yet it remains with us. We do not weary of this experience." Leaders and politicians, take note. Storytelling makes a difference. Sturt and Nordstrom point out: "79% of employees who quit their jobs cite a lack of appreciation as a key reason for leaving. And of the people who report the highest morale at work, 94.4% agree their managers are effective at recognizing them—telling a story about the great work they've done." Leaders and managers alike…tell your followers' story early and often!
"The purpose of a storyteller is not to tell you how to think, but to give you questions to think upon." ― Brandon Sanderson, The Way of Kings