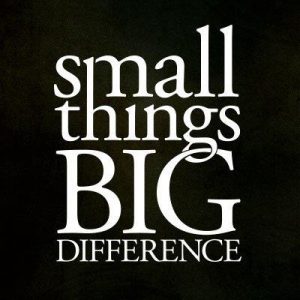 Leadership Spokane is committed to the truism that leaders always learn. We are on the eve of another leadership year with our Youth Class of 2017 starting in August. Our curriculum centers around the 10 servant leadership characteristics of Robert Greenleaf. We also emphasize other leadership characteristics including presence, persistence and patience. Our leadership program continues to grow and our commitment to deliver dedicated leaders likewise strengthens. One of the principles our program is committed to is focusing on the details to make our program better. We are committed to this goal for the Class of 2017 as well, including getting the curriculum right, Blog 88getting the logistics right and getting the tone right. Little details may not seem paramount but oftentimes they prove to be the most remembered.
Decades ago, famous Indianapolis Colts coach Tony Dungy made a statement when talking about lessons he learned from his father. He said that his Dad always reminded him to sweep the corners when cleaning a room. Dungy said that most wouldn't notice the corners but good leaders and coaches always cover down on the details and that includes sweeping the corners. It was a lesson he followed his whole career coaching championship football teams. It was a lesson I took to heart and I have followed my whole career. More recently, this philosophy was espoused in one of the most popular movies of all time, the "Lord of the Rings" movies series. In "Unexpected Journey," character Gandalf says in most dramatic fashion: "Some believe it is only great power that can hold evil in check, but that is not what I have found. It is the small everyday deeds of ordinary folk that keep the darkness at bay. Small acts of kindness and love."
This summer has been filled with difficult and tragic global events: terrorist attacks, attacks on police, all against the backdrop of a divisive political campaign season. In this environment, leaders can feel daunted at moving the needle in a positive direction. Rather than pulling back, leaders should continue to lead well, focusing on the small things that are all within their reach. Together, small acts can "keep the darkness at bay".
Greg Shelley agrees with a similar thesis spelled out in a 2009 book "The Power of Small: Why Little Things Make all the Difference" by Linda Kaplan Thaler and Robin Koval: "That our smallest actions, words, and gestures often lead to our greatest long-term rewards and outcomes." Shelley highlights a few tidbits that can go long way to improving the situation. For example, leaders need to look for small opportunities to help their office environment: celebrate birthdays in an office, take a staff meeting to highlight how far the organization has come in a year or establish a quarterly goal easily reachable. These are small opportunities leaders can look to to improve an organization in the short term. Likewise, Shelley reminds leaders to double check messages before emailing them, to remember that everyone in the office matters, and to slow down. Yes, haste makes waste.
Each of these vignettes is simple. Each of these items is doable. "Please" and "thank you" are the most basic of simple actions but are easily forgotten in the rush of life. Sports is probably the best metaphor for small actions with large consequences. Basketball and football games are often decided by a single score. One action early in the game affects the outcome. Similarly, I recently attended the NCAA basketball tournament at the Spokane Arena. It was a grand time but one of the things I remembered most was how cheerful the parking attendants were. Smiles and hellos I still remember four months later.
Leadership Spokane is absolutely ready for the Class of 2017. Our mission is to deliver more dedicated leaders for the community. Even as we focus on the big things like class days, the gala and other events, we will also focus on the small things. That we vow. We know that our leaders, adult and youth, expect nothing but the best. To make that happen, we must remember to do the small things too!
"Enjoy the little things, for one day you may look back and realize they were the big things." ~ Robert Brault