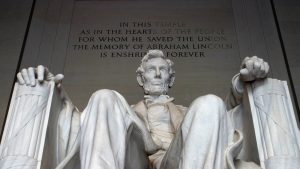 Leadership Spokane is committed to the truism that leaders always learn. This week, I will pause with the tragedies that happened across our nation last week to simply reflect on great leadership vignettes in our past. The White House ordered the flags be lowered to half-staff last Friday, the 67th time in the past four years, showing the challenges our nation has endured recently. As we mourn the loss of life, I will pause and simply reflect on great leaders who have risen up to move our nation forward. In times of great challenge, great leadership is needed.
President Lincoln is generally considered one of our greatest Presidents, and his time of trials lincolnwas not without significant difficulty. Believing in freedom to the core, President Lincoln nonetheless suspended the writ of habeas corpus believing that security around the Washington, D.C., area outweighed personal liberties. Through the prism of history, Lincoln's decisions have stood the test of time but in the moment, many were unpopular yet Lincoln persevered on what he believed to be the best course for our nation. Even before the war ended, Lincoln began talking reconciliation with his Generals crafting a strategy to bring the Confederacy back into the union. His vision was well beyond those around him and sadly, his ideas of benevolence and reconciliation would die with him, plaguing our South through decades and decades of continued racial strife, with the echoes still heard today. Lincoln was a great leader and he stepped up
when the mantle of history and our nation called for it.
Dr. Martin Luther King is another leader who espoused greatness when his nation needed it. His historic leadership during the tumultuous civil rights movement in the 1960s was not always applauded. He compromised when needed within his own movement and compromised with the federal government, making him unpopular, often with major factions in and out of his movement. His strident tones followed by conciliatory actions weaved a middle course that culminated with the historic August 1963 march on Washington which changed the civil rights national conversation to a two-way conversation. Sadly, like Lincoln, Dr. King's life and potential future successes were ended by an assassin's bullet, but his dream remains alive today.
Today, this blog celebrates all the great leaders who have stepped up when history calls for them to do so. Lincoln was a uniter, it was part of his DNA despite the animosity that raged around him. Following the war, he was heard to quip that "Dixie" was his favorite song. When needed, he always searched for the common ground. As our nation mourns and seeks reconciliation in the coming, days, months and years, may great leaders rise to the occasion to lead the nation forward. We celebrate all leaders who help with both civility and unity. Leaders can be great…
Don't find fault, find a remedy. ~ Henry Ford