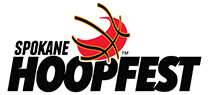 Leadership Spokane is committed to the truism that leaders always learn. This past weekend, Spokane celebrated an annual tradition, Hoopfest, quite literally the world's largest 3-on-3 basketball tournament where the streets morph into countless courts servings players from elementary school to adults, competing for the coveted winning T-shirts. Yet again, hats off to Matt Santangelo and his team for a textbook event that generated plenty of business activity for our city, but certainly generated tons more fun for the participants and perhaps a few sunburns. I was one of those sunburns as I watched my son court-monitor some sixth-graders. As I sat back and watched him referee 33 games, Hoopfest2016I reflected that this event's success clearly rested on three core leadership principals: leaders compete, leaders plan and leaders serve.
By and large, leaders operate in uneven terrain. The environment is complex. Leadership is hard, but successful leaders compete. They adopt a mentality that, even ahead, they are behind, and hard work and passion are core to overcoming obstacles. Earl Lloyd says, "If you can compete, you are going to compete." That is good news. Leaders who compete stay on edge, stay alert and do not let complacency slow their organization down. This weekend, competition was on full display particularly on the sixth-grade courts I witnessed. Even when down with a few minutes to go, these youth competed with the hearts of champions. They didn't want to let themselves down or their fellow players. They competed. Leaders compete.
Leaders plan, too. The winning team in the bracket I watched was the most organized. Natural talent goes a long way but planning can help to build new talent. On Sunday, Chile's national soccer team beat heavily favored Argentina's team. One of the world's best soccer players on the Argentine team, Messi, was mitigated when the Chilean coach devised a plan to pressure Messi the whole game. Likewise, on the Hoopfest courts, the tallest team didn't always win. Teams with good planning and strategy did. On a broader scale, the entire event was masterfully planned out. That is where Santangelo's superb leadership was clearly on display – textbook planning on the front end. An event with 25,000 players and even more spectators does not work without planning. Leaders can have much talent in their organization, but without good strategies and plans, that talent cannot be maximized. Leaders plan.
Finally, Hoopfest would not be a reality without the heart of leadership, leaders who serve. From the court monitors to all the volunteers who kept the downtown clean, Hoopfest happens when so many show up to serve this great event. Service motivates and inspires. My son was sunburned and tired after refereeing so many games, but dozens of the parents and coaches came up and patted him on the back. Service brings out the best in everyone, and even as tempters flared, young men and women doing their best to manage a game kept civility alive. As Robert Greenleaf reminds us, servant leadership always begins with a natural feeling to serve first. Leaders serve.
No doubt, Hoopfest is fun. Being the No. 1 street-basketball tournament in the world brings credibility. Leadership makes it happen. Standing back and watching all the baskets made, it is clear that the scoring starts well before hand. It occurs based on great planning, a passion to serve and on the spirit of competition. Well done, Hoopfest staff – well done, to the legion of volunteers. You served up a great weekend of competition for all, and in the process, reiterated a few timeless leadership truths: leaders compete, leaders plan and leaders serve. Leaders learn from Hoopfest.
Champions aren't made in the gyms. Champions are made from something they have deep inside them – a desire, a dream, a vision. ~ Muhammad Ali