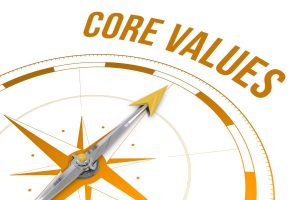 This coming week, 54 adult leaders and 32 youth leaders will cross the stage for the 34th commencement of our program. We emphasize it as a commencement in that our leaders are not done leading but will go forth and continue to build this community. But we do celebrate them all graduating our program and showing a commitment to things better than themselves. Over the past year, all the leaders, both adult and youth, strengthened their leadership skills, learned how they could pitch in to make Spokane better, and grew as a networked team committed to work together for a Core values against compassbrighter tomorrow. We celebrate that achievement and are excited to have 1,217 adults and 583 youth on our alumni rolls.
These servant leaders bring with them 10 core values they will not shirk from. First, they listen. Leaders like Rob Lindsay from the County who was inquisitive the whole year and listened intently to all our distinguished speakers and delivered great questions to make the class wiser. Likewise, our youth did the same, listening to Mayor Condon share his vision for the future, and then leaders like Cameron Fahsholtz asking great follow-on questions to provide the Mayor food for thought.
Second, our leaders have foresight seeing where need is and rallying the "troops" to action. Leaders like Mark London who initiated a great service project for homeless youth in our town providing food and fellowship at a wonderful Crosswalk event. Youth Jillian Mayer had the same vision and put together a needed service project bringing stuffed animals to hospital-bound children. Her vision is heartwarming.
Third, our leaders build community. Most of our adult leaders are already part of great initiatives in Spokane to help others including Marc Heimbigner who contributes mightily to Big Brothers Big Sisters. It was likewise heartwarming to see so many of our youth come together to help with the holiday Blessings Under the Bridge event to feed the homeless. Many like Stuart Danford who was incredibly helpful that day and whose life seemed touched and changed by the enormous giving shown by so many.
Fourth, our leaders know to persuade rather than argue. Leaders like Elysia Spencer who helps with community engagement at WSU-Spokane was active in a number of social causes over the year and used her charisma and passion to engage her contacts on multiple levels in a positive and forward-looking way. Youth Sam Cebula was given an opportunity to persuade his class on a mock government resolution dealing with education, and with an amazing flair of logic won the day in the debate. Sam will most certainly use his oratory skills for good in the future.
Fifth, our leaders are aware. It was heartwarming to see leaders like Marilyn Nelson share her challenging life journey with the class so we all could understand and be aware of the enormous challenges we could face. Yet, by not quitting, we can get ahead and go on to make a difference for others. Likewise, youth leader Merhawi Abraha, fled Eritrea with his family for a better life and next year will head to college being the first student to do so in his family. I will never forget what he told me when asked why he loves America – he said one word…freedom! Our leaders are aware.
Sixth, our leaders conceptualize, or dream big dreams, and make it a reality. Matthew Proehl, a builder by trade, all year has had big dreams for some of his classmates and so quietly behind the scenes has done much to help others find their dreams. Thank you, Matthew. Likewise, 10 months ago, I met David Olds and Kendall Woodard and they dreamed of serving in the military. In less than a month, they will each raise their right hand, swearing allegiance to the United States as the newest members of Annapolis and West Point entrance classes, respectfully. Your dreams came true…congratulations youth!
Seventh, our leaders are empathetic, understanding the needs of others before trying to help. Cindy Green remains a staunch advocate of healthy communities and works feverishly to build data points to educate and communicate as to where our community should be going. Marianna Furfaro similarly put together an amazing research project comparing perceptions of students from Rogers High School with Ferris High School, two schools with different socioeconomic foundations. It was an outstanding piece of work and helped many find greater understanding of how socioeconomic differences influence awareness.
Eighth, servant leaders heal. Doyle Kahabka provided an infectious personality of humor that brought the class together, despite differences in politics, economics and personality. He is a uniter. Joe Coomes did the same with a great presentation on Education Night, making everyone laugh and understand each in the youth class are indeed servant leaders. Joe is also a uniter.
Ninth, each of our leaders walk away realizing they are stewards for the community. As leaders, they are the collective trust for Spokane, both now and in the future. 86 leaders in total agree and pledge to not waiver in this cause.
Finally, as servant leaders, our most important vow is to serve others. Robert Greenleaf, the father of modern servant leadership teachings, says it best: It "begins with the natural feeling that one wants to serve, to serve first." Each of these leaders has shown a commitment over the last 10 months to the growth of people. That is Leadership Spokane's calling and I look forward to our two graduation speakers, Dirk Vastrick and Kendall Fink, providing that charge. Thank you Classes of 2016 for giving back so much already and enriching our program and our distinguished 34 year history. Believe me; you are ready to serve first…this week, each of you graduates with 10 vital core values. Congratulations servant-leaders…continue to lead well!
Define what your brand stands for, its core values and tone of voice, and then communicate consistently in those terms. ~ Simon Mainwaring