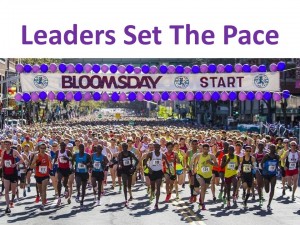 Leadership Spokane is committed to the truism that leaders always learn. On the 40th anniversary of Bloomsday, it is appropriate to highlight how leaders must set the pace. Before discussing this leadership characteristic, Leadership Spokane celebrates Don Kardong for his leadership in successfully completing the 40th annual Spokane tradition where 50,000 runners/walkers congregate and share fellowship and fitness. Don was our 3rd annual King Cole winner last year and his leadership and vision continue to Leaders Set The Pacegrow year after year. Forty years ago, Don set out on a path that put Spokane on the global running circuit much as King Cole did the same for the city envisioning a world's fair here in 1974. Today's race culminating with the handing out of lilac-colored T-shirts to celebrate a day of fitness in the Lilac City was perfect. Even Mother Nature stepped in to help the cause.
Don Kardong's vision and success is emblematic of what leader's need to do to keep an organization moving ahead. Leaders set the pace, leaders set the tempo. Randy Conley in his October 2014 article "Leaders Must Identify the Place, Clear the Path, and Set the Pace" reminds us that "Leaders set the pace for the team. How fast or slow the team moves will largely be up to the tempo the leader sets from the front. But setting the right pace takes good judgment and discernment. Move too fast and you burn people out. Move too slow and your efforts fail from lack of momentum." While leaders do not need to be physics majors, they do need to understand momentum, energy management and time horizons. Work is much more a marathon than a sprint but there are times when offices need to increase productivity. Leadership Spokane, for example has a generally even workload over the year, but in January in prep for the gala and in April for interviewing the new class, our office must quicken its pace. A leader's job is to set the pace but wise leaders realize that full sprints can only last so long.
Ultimately, a leader needs to set expectations. As a commander in the military, I worked around the clock but I realized that my pace would bleed over to my subordinates and potentially burn them out as they had their own pace to set. Blackberries added to that stress because it puts you in contact with your colleagues 24/7. At the start of all of my commands, I made it clear that even if I was sending emails late at night, my expectation was not for them to be answered then. In fact, I made it clear I would reach out and call if I needed an immediate response. Setting expectation is the first step to setting the right pace. Expectations change through the year and leaders need to clearly communicate those expectations via policies, body language or direction so followers understand whether today's daily race is at 100m, 800m or at marathon pace.
Don Kardong set out on a path to get a few folks running back in 1976 to promote a culture of fitness in our community. His expectations were grand but he likely did not expect to build a race that hosts 50,000 runners a year. Every year, rain, snow or shine, Mr. Kardong slowly increased the pace to where he established a race that rivals some of the nation's best. Leaders would be smart to follow his lead. Randy Conley suggests, "If you think you're leading and no one is following, then you're only taking a walk." No, leaders run and they set the pace!
Adopt the pace of nature: her secret is patience. ~ Ralph Waldo Emerson