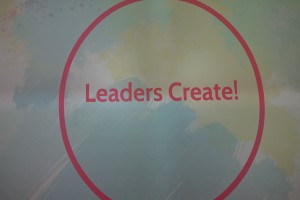 Leadership Spokane is committed to the truism that leaders always learn. This past week we celebrated Arts Day where the focus was on the servant leader characteristic healing and the importance of creativity for leaders. The scan team in their presentation reminded me how much creativity leads to so many other positive benefits for leadership. I often discuss with those interested in leadership the difference between management and leadership Leaders Createbecause most good leaders need to be adept at both.
When thinking of the importance of creativity to leaders and managers, I am always reminded of Steve Jobs quote: "Innovation distinguishes between a leader and a follower."
Creativity or innovation is best defined as the use of imagination. America has benefitted from our foundation of freedom which has fostered for centuries rewarding imaginers for taking risk and daring to think bigger, better, faster, smarter…or at least different. Thomas Edison, the Wright Brothers, and today, certainly computer imaginers Steve Jobs, Bill Gates and Larry Paige of Google continue to dream big dreams.
The scan team focused on the local creative "genes" from all the musical strides, to the artists, to the poets , the architects, and all the business leaders like Jim Frank who saw abandoned fields and envisioned Kendall Yards. This creative Spokane streak which started ages ago certainly was accelerated by the dreaming of the founders of Expo '74. Today that dreaming is carried on by a new generation of creative leaders like Luke and Ginger who introduced an annual festival of art known as Terrain, inspiring a Spokane creative "explosion."
Terrain does it exactly like what all leaders should endeavor to do…light the creative spark in others. Leaders can do this by modeling imagination, encouraging creativity and, lastly, and most importantly, taking risk. Not all risks turn out well and how leaders respond to failures is hugely important to future risk-taking. "Balance in everything" should be the leader's creed and certainly balancing risk and efficiency is a constant struggle for strategic leaders. Mark Fishman, MD, president of the Novartis Institutes for Biomedical Research, poignantly stresses how hard it is to stay balanced: "If there is one device that has destroyed more innovation than any other, it is Six Sigma." Creativity grows an organization's potential, efficiency strengthens it. Both are needed although they can be at odds with each other.
Walt Disney himself epitomizes the delicate balance all leaders should strive for. He was a pioneer in entertainment imagination, and the spirit of that imagination continues on in a multitude of creative masterpieces from the revolutionary "Toy Story" movie to Disney's new global theme park in Shanghai opening soon. But, Disney also believed in the organizational efficiency ensuring every ride ran on clockwork and every employee believed in customer service to the core. The Disney brand remains the gold standard of creativity and a reminder of the power of creativity to move society forward.
In reviewing creativity throughout Spokane, the marvelous 2016 Arts scan team reminded me of how important imagination is to ensuring leaders dream. Walt Disney once poignantly reminded his team: "I only hope that we don't lose sight of one thing – that it was all started by a mouse." Likewise, the Class of 2016 scan team reminded me that so much good happens when leaders create. Let the magic begin!
Disneyland will never be completed. It will continue to grow as long as there is imagination left in the world. ~ Walt Disney