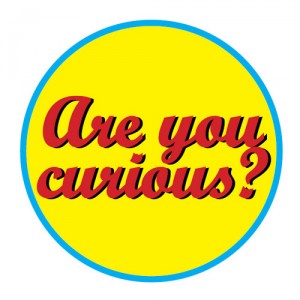 Leadership Spokane is committed to the truism that leaders always learn. Our leaders learn every week and it was enjoyable to see so many alumni at Goodwill's Day of Poverty in Action last week learning the challenges and intricacies for many of those less fortunate in our community. This is my 70th leadership blog and I am always looking for lead-ins to the current blog. This week's tie in is tenuous indeed but the topic at large is important to all leaders. As the weather has turned for the better, it is enjoyable to see people emerge for spring activities, including biking, running and so many events checking out the outdoors. Seeing this, are-you-curiousI was reminded of an important leadership characteristic I seldom talk about but is the cornerstone of so many good leadership successes. Leaders are curious. It is a topic that also aligns with our adult Leadership class topic this week on the arts…artists are certainly curious.
In a nutshell, leaders are relied upon to explore new paths. Leaders who are eager to learn something new always look for new paths. Doug Dickerson in his Leader's Beacon article, "5 Traits for Curious Leaders," reminds us that curious leaders want to learn, hence they are always a step ahead of their peers. He also points out curious leaders are ready to assume risks and can go it alone, if necessary. All these traits are integral traits of "explorers," which can be a synonym for a good leader. We generally don't need managers exploring new territory, but leaders with good vision and direction owe it to their followers to be looking for new paths of success.
For regular readers, you know the basic theme of my weekly blog is leaders learn. Children are always on a steep learning curve and their success, particularly early on, is their uncanny ability to always ask the question "Why?" Children are naturally curious and this curiosity drives them to rapidly learn. At some point, between childhood and adulthood, our social mores and growing politeness stop us from asking the question "Why?" Leaders should avoid this trend if they want to continue to grow. "Why" should be the watchword for all inquisitive leaders who are committed to always growing.
One of the most well-regarded business leaders of the 20th century was Walt Disney who built an entertainment empire that survives today. Walt's vision started long ago with a simple visit to the playground with his kids. He saw how much joy came to both kids and the parents swinging on swings, sliding down slides and going on the merry go round. He wondered if a bigger playground would equate to more joy. Walt was always curious and this curiosity, which spiked one summer day long ago, germinated into the Magic Kingdom and a host of other entertainment playgrounds that have gone global, the most recent being Disney Singapore opening soon. Walt was on the forefront of exploring for every family who has kids, and having visited there multiple times with my kids, I am happy Walt asked the question, "Why?"
The adage "Curiosity killed the cat" may be still be whispered but no one ever stated that curiosity kills leadership. Curiosity is a characteristic not often spoken about but is an essential tool of all "exploring" leaders. Spring has sprung and with it, our Leadership Spokane leaders are reminded to get out of their offices and find new paths forward for their organization. Leaders are expected to explore new vistas…to do so, leaders must be curious.
We keep moving forward, opening new doors, and doing new things, because we're curious and curiosity keeps leading us down new paths ~ Walt Disney