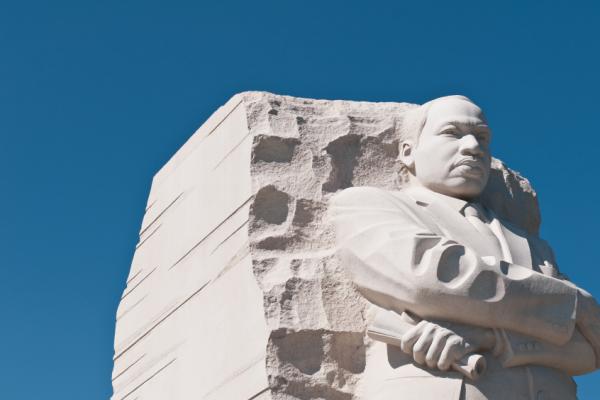 Leadership Spokane is committed to the truism that leaders always learn. This week, Spokane leaders and leaders around the nation paused to reflect on the legacy of Dr. Martin Luther King, Jr., and his lifelong struggle to advance the causes of civil rights. Becoming law in 1983, Dr. Martin Luther King Day was finally celebrated in all states in 2000. Today, it is a national day of reflection, and in many Leaders Lend a Handcommunities, including Spokane, citizens gathered to march to remember Dr. King and to stand for equality for all.
In 1965, three civil rights marches from Selma to Montgomery captured the nation's imagination and contributed to the passage of the voting rights act. The marches became a visible symbol of nonviolent protest and were a successful manner to draw national attention. In 2016, the march for civil rights remains an uneven journey with 28 percent of Americans having a great deal of concern over racial relations, up from 17 percent the previous year according to Huffington Post. The remembrances this week across the nation remain a reminder of the dream of Dr. King that one day America can truly be a melting pot. Another aspect special about Dr. King's Day is it has turned into a day of service in many communities which is truly a special gift Dr. King has left America with his legacy: "Everybody can be great…because anybody can serve."
A cornerstone of the racial unrest in our nation is the hidden dichotomy of achieving equality best summed up by Supreme Court Associate Justice Harry Blackmun: "In order to get beyond racism, we must first take account of race. There is no other way. And in order to treat some persons equally, we must treat them differently." That remains the challenge for a country that aspires to be a land of opportunity. Implicit in the quest for opportunity is the belief in fairness and treating people differently can sometimes rub against fairness. In a world that is not zero sum, equality and fairness can work for all, but when some must gain at others expenses, reconciling fairness and equality is difficult indeed.
This blog does have the answers to fulfilling Dr. King's dreams, but it can highlight that the celebration of Dr. King's birthday signals those dreams still exist. As leaders, our job is to give reality to dreams and the three marches in 1965 were difference makers to strengthening civil rights in America. Leaders must march for the clarion call they believe in and deliver hope for their followers. For Leadership Spokane alumni, our calling is to build this community and give service as Dr. King called for. Undoubtedly, dozens of Leadership Spokane alumni marched in the Dr. King parade this week but on a larger scale, our alumni march for their calling of good. "Leaders march" because we all have a dream. This week, we pause and honor Dr. King's dream because we believe as he is did that the time is always right to do what is right.
"Life's most persistent and urgent question is, 'What are you doing for others?'" ~ Martin Luther King, Jr.