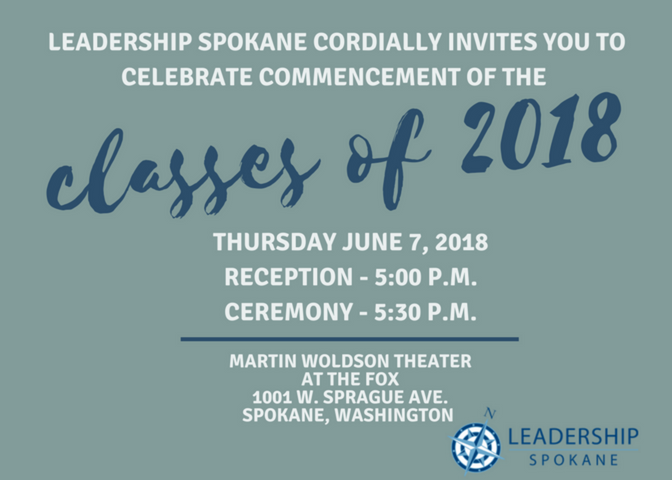 Congratulations to our 2018 youth and adult classes!
Thank you for your commitment to serving others and the community. Now, it's time for us to celebrate you! Join us for a festive celebration of leadership for all adult and youth graduates held in the beautiful main theater at The Fox. Keynote speaker is Howard Behar, former Starbucks CEO. Invite your real family and your work family!
SCHEDULE
5:00 p.m.-5:30 p.m. A catered reception with hors d'oeuvres, beer and wine available
5:30 p.m.-7:30 p.m. Ceremony
This event is open to the public
Please RSVP before May 28
Contact Information
Ruth Reynolds
(509) 321-3639
---
Thank you for celebrating 2017 Commencement with us!
Click through photos from our 35th Commencement Ceremony held June 8, 2017 at the Fox Theater. Keynote speaker was Larry Spears from The Spears Center for Servant Leadership.
Photos taken by Meagan Pietz Photography.
---
Thank you to our 2017 Commencement sponsors
Global Credit Union, AT&T, Lydig Construction, Inc., Numerica Credit Union, Horizon Credit Union, Spokane Public Schools, Budinger and Associates, Spokane Federal Credit Union and Spokane Housing Ventures
---
Thank you to our 2017 Leadership Spokane sponsors
Kalispel Tribe and Northern Quest Resort & Casino, WSECU, Cowles Co., TransCanada, Avista, Class of 2016, David and Dorothy Pierce Charitable Trust, Premera, Providence, Tracy Jewelers, Washington Trust Bank, AWB, BECU, Dirk Vastrick, Northwest Farm Credit Services, Southwest Airlines, STCU, Leanne Zilar, Lawton Printing, Kent Wales, John Finnegan, Beacon Hill Catering.
---